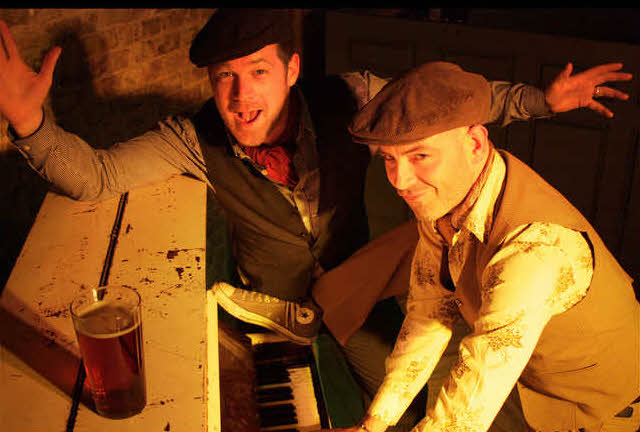 The Gents provide a rousing singalong of old and new songs in their own style.
The hand out Kazoos to members of the audience, who join The Gents as an impromptu Kazoo Band.
A 21st Century Cockney Knees Up.
Brill
Roll up, roll up, and feast yer ears and eyes on the cheeky nonsense what is – The Gents!

Join us for a raucous sing-along of all your favourite pop tunes in the Cockney style! Play along
to all the hits with your very own Gents kazoo! Wow your mates with your lyrical knowledge of bad
80's pop cheese!

Updating the piano sing-along for the twenty-first century, The Gents cover tracks from Kylie to
Nirvana, Talking Heads to Dolly Parton, The White Stripes to Hot Chip & Elvis to Britney Spears.
In a mash up of styles incorporating the cockney knees up, gypsy punk and boogie-woogie piano
The Gents lead their drunken crowds through the full history of popular music. Alongside set pieces,
costume changes, comedy asides and Kazoo solo's, The Gents fully integrate their punters into the
performance and encourage audience requests. The Gents generally prefer to perform with crowds
surrounding the piano rather than on stage, enabling them to fully connect with the audience.

With plenty of humorous banter, saucy singing and sexy outfits The Gents always make their shows
something to remember. You'll come away with a belly full of laughs, a smile on yer face and a bloody
soar throat!

The Gents are available for private parties, festivals, street performances, corporate bookings,
tv appearances, promotional work and, well, just about anything else you want to offer really!
They are London based but are happy to travel.

For a complimentary copy of my PDF file "A guideline to the various types of entertainment available to book for your event" Click this link
To book The Gents,
or for further information, contact:
Chris Ehrenzeller
Aurora's Carnival
166 Dale Road
Matlock Bath
Derbyshire
DE4 3PS

Mobile: 07710 788671